Crisp content and website functionality is a forceful brand building strategy. Each client challenges us to deliver new and innovative results.
Marrying brand focus with great design is our starting point -- keeping your site running smoothly on our network guarantees satisfaction.

London International Boundary Conference
2013
site launch - January 2013
The inaugural London International Boundary Conference takes place on 18 and 19 April 2013 at the Royal Geographical Society. The event provides a unique and multidisciplinary insight into the complex world of international boundary and sovereignty disputes. Speakers will be among the world's leading experts and practitioners in the effective resolution of territorial disputes.
xguru, Inc. was commissioned by our client, Volterra Fietta, in partnership with conference co-sponsors The Department of Geography, King's College and the UK Hydrographic Office to develop a public information website, ecommerce-enabled guest registration and payment system (cheque and credit card methods), all supported by an internal conference attendee management system. Special validation methods were developed to handle the registration options available. Email newsletters and invitations were created to publicize the event. Additionally, all conference materials (brochures, panel description abstracts) were created by xguru, Inc.
Expert Mortgage
site launch - June 2012
Expert Mortgage, with offices throughout southern Ontario, provides access to a wide range of mortgage products and services to individual and business borrowers. The business has a rapidly expanding broker-agent network.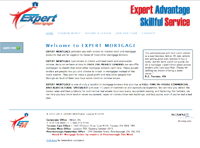 Their website includes a public information section for lending and borrowing, and online mortgage applications. Additionally, the company requested xguru, Inc. provide similarly designed agent website sections seamlessly integrated into their online presence. Our solution couples jQuery navigation and "pop-up" quick info panels, neatly designed and easily navigable for all kinds of users.
Santa Maria Estates
Rum Cay, Bahamas
site launch - July 2011
Santa Maria Estates is a real estate development located in the secluded paradise of Rum Cay.
xguru, Inc. created an attractive corporate identity and jquery-based home page slide show plus general information webpages to equip Santa Maria Estates in the promotion of their project to customers.
Russ Brown Motorcycle Attorneys
Kill A Biker Go To Jail
site launch - July 2011
Russ Brown Motorcycle Attorneys, based in Los Angeles California, are motorcycle accident lawyers. Through their BAM and Kill A Biker Go To Jail programs, the firm represents claims throughout North America.
xguru, Inc. were asked to devise visually striking graphics to promote the intense message "Kill A Biker Go To Jail" program via a website and sticker program. Over 75,000 stickers were produced and given away at events such as the 2011 Sturgis Festival. Their social media enabled website offers visitors the opportunity to request free stickers, download the IPhone app, and join their BAM program (Free Breakdown and Legal Assistance for Motorcyclists).
amaryllis house
Crochu, Grenada
site launch - June 2011
Originally built as a private artist's atelier in 1994, amaryllis house is a secluded, idyllic retreat located in Crochu, Grenada. The property is available to the public for rental on a periodic basis, and is a perfect getaway location for couples or families seeking a unique tropical Carribean experience.
The owner of the property challenged us to present their island retreat in a visually compelling fashion, drawing on the 'flavour' of Grenada and the name 'amaryllis house'. Large format images and jQuery slide show galleries were used throughout to show the landscape, beaches, home interiors and charming character of the vacation experience offered.
Volterra Fietta
The Public International Law Firm
site launch - April 2011
Volterra Fietta is a team of public international lawyers, with a top-tier global reputation who act on behalf of States, international organisations and private entities in both contentious and non-contentious matters related to every continent and region of the world.
The project includes a public website and represents a milestone for xguru, Inc. in that the company required ultra-secure document management, email and internal business communications. Our solution couples leading-edge RSA encryption technologies with Zimbra Collaboration Server 7 for safe, secure and fully accessible productivity tools hosted on the CardinalFactor.Net network.
Torscove Contracting Inc.
site launch - February 2011
The Torscove Contracting Inc. company website is an informative mix of thoughtful content and jQuery photogalleries, designed to show potential clients their range of completed projects. Torscove Contracting "Quality Renovations and Home Repairs in the Greater Toronto Area" has built an enviable reputation for their basements, bathrooms, cabinets & woodwork, floors & stairs, kitchens, walls & plaster remodelling projects for the home.
Lumafex International Inc.
site launch - February 2011
Lumafex International Inc. is global trading company, principally connecting industrial manufacturers based in China with commercial consumers in South America. The Toronto, Canada based company facilitates trade, shipment and payment between overseas partners and required an easily navigable website written in three languages: Chinese, Portuguese and English.
Amazing Import & Export plc.
site launch - November 2010
The Amazing Import & Export plc. company website uses jQuery slideshows to present its product line. The company is the Eastern African distributor for prefabricated steel structures, made in Canada by Future Steel and other manufacturers.
Alfonso Ramirez Consulting. Imaging & Design
v2 launch - July 2010
v1 launch - May 2006
The Alfonso Ramirez Consulting (ARC) redesigned website incorporates visually striking graphics with jQuery functionality in its navigation and slide show galleries. The result is an attractive 'portfolio' site that presents the range of project work completed in an ultra-modern way. The consulting firm assists architects, developers and property owners to conceptualize, communicate, and market their architecture projects. ARC enhances proposals and presentations, construction drawings for building permits and marketing initiatives.
Alfonso Ramirez, Principal: "This rendition of our website seriously presents our project work to our clients and associates. WOW... as our business is design, it is important that our message be conveyed clearly and with style. We greatly appreciate your assistance."
Monica Beltrame
personal fitness trainer and zumba fitness instructor
site launch September 2009
Monica Beltrame is a native Brazilian specializing as a personal fitness trainer and zumba fitness instructor. She operates a thriving practice in Toronto, Canada.
Bavia Arts Studio.
site launch November 2008 w/ Musical Instruments e-commerce added March 2009
Bavia Arts offers authentic cultural, spiritual and artistic experiences of Brazilian and African origin.
Their studio is a lively art space located in the heart of St Clair West district of Toronto Canada. Artists in Residence at Bavia -- Batucada Carioca Samba Group, Newton Morales Dance Theatre, Escola de Capoeira Filhos de Bimba and Mulambo Groove -- provide authentic cultural experiences through lively music and dance classes for all ages, rehearsals, performances, consultations and productions.
InterRent International Properties Inc.
v4 launch - June 2005
v3 launch - January 2003
v2 launch - December 2000
v1 launch - December 1999
Includes flash introduction portraying real estate investment holdings in southern Ontario and updated design elements. InterRent uses xguru's email tools for Investor Relations.
G. Michael Newman, President, CEO: "The newest rendition of the InterRent website raises our effort to communicate our business to shareholders and the public. As a growing public corporation, with 65 buildings and 875 rental suites, we remain committed to passing along our message to investors and business partners. xguru, Inc. delivered yet another stylish and contemporary design for this purpose."
Trillium Mortgage
v2 launch - April 2006
clients since 2003
Frank Manzo, Managing Partner: "xguru, Inc. recognized our primary business objectives, but also understood that we were intimidated by creating an internet presence. Their design process allowed for seamless exchanges between the principals of our company and their web developers... and, in analyzing the shortfalls at other mortgage websites, went above and beyond the scope of their web services agreement. We gained an attractive, highly functional communications and business process website... xguru, Inc. delivered blue chip performance at an affordable price."
Sananda Devi Yoga
site launch - November 2004
Sananda Devi Yoga teaches how to be of this world completely, as a spiritual journey to wholeness. xguru, Inc. designed a simple website to assist this new business reach its audience.
RiverStone Group Real Estate Investment
site launch - November 2004
(business sold - March 2007)
Kate Mossman, RiverStone Group: "xguru, Inc. went out of of their way to provide me with an outstanding web site! Any adjustments needed during the course of the development of my site were handled efficiently. xguru were very helpful and professional throughout the project. I have received many un-solicited compliments on the excellent design of my website."

Bullhorn.ca
site launch - August 2005
Website designed to complement this emerging media relations company in their work promoting event, product launches, film and theatre openings, art exhibits and charity fundraisers.
Jaymz Bee, Director: "Our monthly events newsletter is extremely popular! xguru's expertise in email communicatons offers us unmatched abilities to reach our audience on behalf of our clients -- the performance stars of tomorrow -- as we promote their careers professionally and with style."
d'Art International Magazine
site launch - April 2004
d'Art International Magazine is a contemporary art periodical publishing Artist reviews, criticism, commentary and exhibition reports. The xguru, Inc. designed website provides an edition archive, online inquiries, subscription features and uses emaillabs for communications.
Steve Rockwell, Publisher: "We have published d'Art Magazine since 1997 but were reluctant to parallel our print efforts with an online presence until meeting with the xguru team. They understood our business objectives, and have created a great website that presents our publication as we envisioned it should be."
Cat*PR
site launch - March 2006
Cat*PR is a public relations company specializing in arts, culture, lifestyle and entertainment. Cat*PR understands the importance for arts and entertainment organizations to get their message to the public. In February 2009 Cat*PR published its inaugural enewsletter using xmail.
Catherine Fawcett, Principal: "xguru, Inc. puts Cat*PR at the forefront of a 'new breed' of media relations firms. With our complement of website, email tools and technical support, our ability to reach our audience is fantastic. Thanks!!"

The Tia Anita Project. Toronto, Canada.
site launch - September 2006
"tia anita" is a non-profit initiative formed to produce CDs showcasing the wide variety of styles and cultures found in the Canadian music scene. The organization's mandate is to foster an awareness of grass-roots initiatives assisting orphans affected by AIDS - primarily in Africa - while promoting a wide range of Canadian music talent from the folk tradition to world music.
Ann Stadlmair. Project Coordinator: "Thank you for your kindness in supporting our organization. We are grateful for the passion shared in what we are trying to achieve and commitment to ensure we truly realized the potential the web offered us. This leadership made all the difference."
Fort York Food Bank. Toronto, Canada.
site launch - October 2006
This year alone FYFB will provide the equivalent of 70,000 days of groceries through our 3-day food hampers, serve 30,000 meals through our kitchen and perform 1,500 counselling cases to help people get back on track. xguru, Inc. created a website to enable e-newlsetters, fund raising and expanded information resources to be presented online.
Douglas Anweiler. Director and Chair, Strategic Planning Committee: "We are deeply grateful for your support, expertise, leadership and professionalism. xguru's work has tremendously impacted our organization -- both in terms of how our supporters view FYFB, and the sense of pride our clients have in FYFB. We are grateful for the passion shared in what we are trying to achieve and commitment to ensure we truly realized the potential the web offered us. This leadership made all the difference."
Lanzate Arts and Culture Festival
site launch - July 2006
Lanzate supports the talent of Toronto's Latin-American/Hispanic Youth. Lanzate means "to leap, to jump and to spring" which highlights the action of being pro-active, as well as a simple metaphor for the potential of Latin-American/Hispanic youth in Toronto.
xguru, Inc. assisted Lanzate by incorporating their poster graphics -- designed by a young Latin-Canadian designer -- into a showcase website that will profile the activities of the organization.

Addis Ababa Restaurant
Recipe of Love Cookbook
site launch - February 2008
Addis Ababa Restaurant + The Recipe of Love Cookbook website. Website and e-commerce site for popular Ethiopian restaurant located in downtown Toronto. The website also contains flash streaming video and radio broadcast interviews of Aster Belayneh, the popular owner and cookbook author.
Arabesque Cafe
site launch - February 2006
Nestled in the heart of Toronto's Little Italy, it's a perfect spot to spend an afternoon over a cup of tea, a place to lounge with a favourite book, or to have lunch with friends, eating authentic dishes from the Middle East.
Cajú Restaurant. Brazilian Influenced Cuisine
site launch - October 2004
Cajú is warm and inviting with modern décor, an elegant bar and a spacious dining room. Named after the gold and crimson tropical cashew fruit, Cajú features Brazilian-influenced cuisine. Recently Cajú began publishing a periodic enewletter using xmail
Mario Cassini. "xguru, Inc. provided our resturant with a tasteful and informative website to enhance our business with a result that reflects our style and budget."
Lula Lounge Website with Calendar & Event Management Tools
v2 launch - June 2004
v1 launch - December 2003
Lula Lounge in partnership with xguru have developed a complete web-based event management and calendering system for the club. In November 2004, an online ecommerce store was added.
Jose Ortega. "From design to development through to launch, xguru has shown us how to improve our business using technology. We have streamlined our communications processes, improved our visibility and have raised awareness of our entertainment offerings. In the restaurant business, the most expensive seat is an empty seat. xguru fill seats!!"

madam vintage.
cowboy chic.
site launch - June 2010
Terrific small vintage boutique offering leather jackets, cowboy boots, hats and other garments from Western Canada.
Cara Leslie, Proprietor: "What started out as a small book mark print project ended up working beautifully as a web page too. Thanks a ton!"
nature bite.
discover. explore. embrace. an organic lifestyle.
site launch - May 2010
Beginning with the design and branding of a new company identity, xguru, Inc. assisted Nature Bite to launch a comprehensive ecommerce website for their eco-friendly product line. The site includes detailed product descriptions with online purchasing, xmail enewsletter subscriptions, and automated inquiry email forms.
Soul Drums
retail ecommerce launch - September 2007
Soul Drums is a full service retail & learning percussion resource centre. xguru, Inc. adapted original graphic design elements and embarked upon full website reconstruction. Updated navigation, retail ecommerce, multi-media and enewsletters were implemented to raise the store's profile in the marketplace.
Paul Bailey, Partner: "Like many of our competitors, being online is essential. xguru, Inc. allowed us to focus on our unique product line and special event promotions. The partnership has brought about many changes to our store -- all for the better. Our customers love the enewsletter and our 'garage sale' section on the ecommerce side features terrific monthly specials. We are doing more while spending less."
Maindale Mall
site launch - May 2009
Maindale Mall. Shop and Dine in the Heart of Toronto's historic Chinatown district... xguru, Inc. created visually attractive website incorporating flash animations, interactive retail tennant map and automated inquiry email forms for this client.
Red Pegasus Boutique
site launch - October 2005
Red Pegasus has been voted by Toronto's Now Magazine readers poll as "Best Unique Gift Shop" 4 times since 2000. The store caters to an extensive crowd, where one is sure to find the perfect gift. Products vary from local and Canadian artists to worldwide specialties.
Genevieve Marentette, Director of Marketing and Sales: "As a single location, independent business with 10 years under our belt, it was long overdue for website and email communications to become part of our marketing strategies. xguru, Inc. made the process easy. Thanks to our content manager toolkit and email newsletters, we are able to communicate wonderfully with customers, suppliers and the media.
The Wine Establishment
site launch - August 2004
"Everything to do with wine... but the wine itself". xguru, Inc., in partnership with eicatalyst, completely overhauled this clients existing website. Complete with e-commerce online shopping functionality for 1000 inventory items, email newsletter campaign tools, all framed in a contemporary look and feel design, the new Wine Establishment website offers visitors an exciting glimpse of the many products and services available. Animated macromedia flash banners were designed to improve the visual experience.
SPS - Special Product Sales
site launch - May 2006
Special Product Sales is a trusted online merchant for a wide selection of consumer electronics and digital photographic products. SPS acts as the online ecommerce partner for CEID, another xguru, Inc. client. The project included content management integration between two websites with different publishing needs and online sales.
CEID.com Vivitar Canada
site launch - May 2005
C.E.I.D. Corporation is the Canadian distributor for Vivitar, Ricoh and other consumer electronics brands. Their website provides the retail distributor network, their customers, and the public generally with information and product support resources. Project includes content database tools, public access and private dealer network areas.
Sam Zakalik."The C.E.I.D. website is a step forward in providing information and product support resources. We have aimed to be clear, concise and user-friendly. Online support and easy-to-use download features will help to advance our business goals".

Jazz For MARA
Lilly, Daniel and Micah Barnes
site launch - August 2011
"Jazz For Mara" is a collaboration between author and Gemini Award winner Lilly Barnes and her two sons: jazz composer Daniel Barnes and singer Micah Barnes. Performing together on stage they bring to life the strange compelling story of "MARA
This project included DVD cover/liner notes/ DVD label design and production, followed by the production's website. As well, xguru, Inc. has prepared 4"x6" event promotion postcards.
" Thanks very much for all your assistance with Jazz For MARA. "
~ Daniel Barnes, co-producer.
Soular Productions Inc.
v2 - March 2012
v1 - August 2006
Formed in 2001 by the critically acclaimed Juno-Nominated jazz and blues vocalist Dione Taylor and bassist/ bandleader extraordinaire Sandy Mamane, Soular has been laying down a deep infectious groove for over 5 years with its' soulful vocals and funky sounds.
Recently, xguru, Inc. updated the band's online presentation with contemporary graphic design and new techniques such as jQuery-based MP3 music player, YouTube videos and performance schedule information.
Dee Dee and the Dirty Martinis
site launch - February 2010
Dee Dee and the Dirty Martinis are a groovin' seven-piece rhythm and blues band drenched in the sounds of deep southern-fried soul and the hip sounds of Motown. Miss Dee Dee is a foxy powerhouse with the voice of an angel and soul of a sinner. Travel back to an era when JFK was President, Aretha was the Queen of Soul and the times were a changin'.
The Dirty Martinis website includes a jQuery-based MP3 music player, YouTube performance videos, photogalleries, and Facebook links.
" Beautiful!! "
~ Sandy Mamane, Band Leader
Meow Films
site launch - October 2008
Meow Films is dedicated to raising social awareness and community building through promotional videos and event management -- one project at a time!
xguru, Inc. reworked their existing graphics into an updated website incorporating email newsletters, media broadcasting and event ticket purchases using PayPal.
" Our compliments for a terrific result. Thanks very much. We look forward to working with xguru, Inc. for years to come. "
~ Gurbeen Bhasin, Producer/President
Batucada Carioca Samba Group
site launch - July 2009
For the past five years, Batucada Carioca has focused upon the most traditional and original rhythms of Rio's Samba Schools, carrying with them the joy, fidelity and soul of true Samba.
xguru, Inc. developed a striking new visual design for the band. As well, advanced methods were incorporated to allow performance photogalleries and videos from YouTube, Facebook, PicasaWeb and other external websites to be presented.
" The photogalleries and videos are awesome. "
~ Maninho Costa, Batucada Carioca
Jaymz Bee. Event Consultant
site launch - October 2007
Jaymz Bee is a Toronto based entrepreneur who wears many hats
While most of his time is spent working for Canada's premiere jazz station, JAZZ.FM91, he also runs Timely Manor records (an independent jazz label with national distribution through Fontana North / Universal), Bullhorn (a monthly arts and entertainment newsletter) and still finds time to write articles, short stories, screenplays and songs, and at night you can find him emceeing corporate events, charity galas and acting as Music Director of award shows. You know the saying: If you want something done right, give it to a busy person.
Art Levine, Classical Music Educator
site launch - August 2005
Design and development of website for classical music educator. Site includes user-administed toolkit for uploading free and purchasable music resources.
Fernando Tavares, Pianist & Composer
site launch - December 2004
Design and development of website for jazz musician. Site includes media streaming of recorded music and video broadcast.
Samba Toronto
site launch - June 2004
The Escola de Samba tradition, with its root in the Brazilian spirit, has planted itself here in Toronto where it's budding with fun for everyone of all ages. Escola de Samba de Toronto is one of Canada's most popular Brazilian Samba bands, performing regular events and large festivals throughout the year.
The Samba Toronto website presents events, teaching resources and multi-media for the groups various activities. Samba Toronto also publishes a periodic newsletter using xguru's xmail tools.
b current performing arts
site launch - April 2010
b current, with studios at the Artscape Wychwood Barns in Toronto, continues as the only professional company on the Canadian performance scene which focuses its main artistic energies and programming on developing original theatre works rooted in, and reflecting voices from the Canadian Black diasporic communities. It's annual rock.paper.sistahz festival has introduced scores of new works and new artists from within the city, across the province and the nation.
" Our new website mirrors the growth of our theatre company over the last ten or more years. With the range of activities, festivals and training progams we offer, a colourful and comprehensive website helps us immeasureably. The enewsletters are a total bonus! "
~ Ahdri Zhina Mandiela, Artistic Director
Genevieve Marentette, Singer & Songwriter
updated - September 2009
launch - February 2005
Design and development of website for jazz singer/songwriter currently performing in Hong Kong. Site includes media streaming features for recorded music.
Rumberos.
Showcase Of Cuban Music In Canada
v3 launch - June 2009
v2 - March 2008
v1 - November 2006
The production company of Cuban Percussionist Joaquin Hildago Nunez, Rumberos performs music and educates people about authentic Cuban music -- from traditional Cuban music to Rumba, World Music and even jazz. Joaquin leads and directs the Afro-Cuban percussion ensemble "Rumba Iyabo" and the traditional Cuban music group "Cubanos". He has recorded multiple projects with the most recent being Hilario Big Band, Eddie Bullen, Kalabash and Njacko Backo.
Janelle Monique. Monique Musique
site launch - October 2008
Janelle Monique launches her debut album "You Go To My Head". From the lavish ballads to the fiery up-tempos, You Go To My Head sweeps you off your feet. The album's title track "You Go To My Head" is a smooth and sexy bolero/cha-cha. Janelle's majestic arrangement of Burt Bacharach's "Don't Make Me Over" exudes power and soul. The contemporary spin on "For The Love Of You" ignites this sultry interpretation of the Isley Brothers classic. R&B meets jazz in "'Round Midnight", a duet with vocalist Jessie Roy, and it burns with aggression and slick grooves.
anitAFRIKA! dub theatre
site launch - September 2008
anitAFRIKA! dub theatre is a radical arts centre founded on 7 principles of dubpoetry & dubtheatre: the use of rhythm, language, political protext, orality, urgency, integrity, and sacredness as mediums of social change through storytelling.
xguru, Inc. created -- from member-inspired graphics -- a crisp, consise website and email newsletter plan for the Autumn 2008 programming launch of the theatre. A colourful calendaring system presents the schedule of events for each month.
" thank you, thank you, thank you - our website is outstanding "
~ Jamilah Abu-Bakare, director of operations
" it is a true pleasure and blessing to have you on board. welcome! solidarity. "
~ d'bi.young, founder, artistic director
Timely Manor Music
site launch - July 2007
Timely Manor a Toronto, Canada based production company/ recording label dedicated to promoting various forms of jazz music. Led by JAZZFM's Jaymz Bee, Timely Manor represents artists including Kollage, Colleen Allen, Robert Scott, Adam Makowicz, and Darren Sigesmund to name a few.
Timely Manor, in partnership with xguru, Inc. and media relations experts Cat*PR publish the very popular bullhorn enewsletter each month.
Wychwood Park Productions
site launch - December 2007
Wychwood Park Productions is a Toronto, Canada based production company/ recording label. Their roster includes well known Jazz vocalist DK Ibomeka. xguru, Inc. and Wychwood Park publish various enewsletters for DK Ibomeka to his international fan base.
Ciara Adams | Singer | Songwriter | Actor
site launch - January 2008
Popular singer | actor | arts educator goes online with site and enewsletter.
Site includes media streaming features for recorded music.
Samba Explosion Dance Company
site launch - September 2005
Samba Explosion Dance Company promotes culture, music and carnival. xguru, Inc. created a simple *.css based website for the performance group.

presenting the visual arts online represents a design challenge we enjoy. The end result should allow the art to speak for itself.
Michael Davidson, Artist
v2 - launch April 2009
v1 - launch June 2002
Excerpts From Michael Davidson, 26
Lou's Café, August, .06
I'm sitting down to breakfast, at 53rd and Sixth Avenue. I'm thinking about '26' and wondering how it will hold up as a document of the last several years. It should work out. I've left it in the hands of people I trust.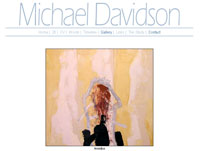 As far as definition of process, where I have been with the paintings, and the nature of the '26' location in Toronto, homebase, my residence and studio, I think it's all there, maybe in between the lines.
Before I cross the road and go in to take a close look at de Kooning's 1950-52 'Woman I', one of the most laboured paintings I know of, I'm also wondering what my next paintings will look like. There is of course, no way to tell. And that's alright. I've never wanted to know anything beforehand....
Meow Films Presents ~Night At The Indies~
site launch - August 2008
Utilizing existing graphics, xguru, Inc. designed an enewsletter and accompanying website for the ~Night At The Indies~ arts organization. Multi-media and e-commerce complement the striking visual design of their online presentation.
~Night at the Indies~ is a monthly event highlighting artistic endeavors in all its forms. Individual artists and sponsors collaborate to present unique film, visual arts and cultural ideas. The organization honors artists for their work and aims to celebrate art and foster a community for artists to connect and create. Submissions are reviewed by the ~Night at the Indies~ Collective and are selected based on: artists from diverse communities, storyline, social awareness and responsibility and availability to attend the multi-media events and collaborate with other artists.
~Night at the Indies~ continues to grow and evolve as a community. Partner organizations can be found in Vancouver, British Columbia and Montreal, Quebec.
Eldon Garnet. Artist, Photographer and Author
site launch - August 2008
Garnet throughout his career has been a participant in both the Canadian and the international cultural world. From the very beginning, his photographic works were included in exhibitions in the United States and then Europe. He has maintained an international presence throughout his career. Still as a young artist, his work was presented at La Memelle in San Francisco 1978. A participant at the Venice Biennale in 1985. Garnet's 1997 work, NO was included in the exhibition Hitchcock and Art: Fatal Coincidences at the Montreal Museum of Fine Arts, Montreal (2000) and the Centre Georges Pompidou, Paris (2001). In 1997, the National Gallery (CMCP) hosted his mid career survey entitled: the Fallen Body.
Other new photographic works, Fissure (1997), Fracture (1999), and Lament (2000), among them have recently been the subject of exhibitions in the Netherlands, at the Noorderlicht Photofestival, Groningen (2001). Garnet has had major surveys of his photographs, at the Amsterdams Centrum voor Fotografie (2002) and Dust at the Museum of Contemporary Canadian Art in Toronto (2002).
xguru, Inc. created a portfolio website for Eldon to re-present his body of work and cultural contributions.
Dale M. Reid, Photographer
site launch October 2007
Dale M. Reid Photography specializes in artistic black and white images of maritime views, seascapes, roads, skies and urban views.
Writer Rita Zekas states "Loved, loved, loved Dale M. Reid's black-and-white photography. A photo of a deserted farmhouse in a flat landscape was so Dorothy's-house-before-the-tornado, but it was and a photo of a pair of ankle strap stilettos beside an exotic flower that followed me home. Its title, "Danger Cobra," sealed the deal. (Living reporter. The Toronto Star. Mar 29, 2008)" in a recent review of this talented photographer
colormatchgame.com
site launch - January 2005
colormatch -- a game of aesthetic strategy -- is part of d'Art International Magazine's interest in the visual arts. The website includes presentation of tournaments held at various venues and exhibitions. The client plans to launch an online version of the game in 2008.
Jason Alexander, Painter
site launch - March 2007
A graduate of Ontario College of Art and Design, Jason worked in advertising and taught painting and design at Centennial College, before devoting himself full-time in 1992 as an independent visual artist. Prestigious corporations, charitable organizations and many individuals have sought Jason's paintings for the exhilaration and thought provoking dynamics created from the shear energy depicted on canvas. Jason currently is selling his paintings in private galleries and art organizations throughout North America.
Ashok Charles, Photographer
site launch July 2005
Steve Rockwell, Artist
site launch - July 2005
Steve Rockwell, in addition to his career as a visual artist, is also the publisher of d'Art International Magazine and the ColorMatch Game series.
mas photography
A macromedia flash based presentation for fashion photography studio